Discover the ultimate in skin rejuvenation with age-defying results
Oxygen Facial Therapy has become known as the 'Ultimate Facial' among celebrities...and is the perfect rejuvenation treatment for any skin type - aging skin, preventative aging, rosacea, acne or for a one-time special occasion.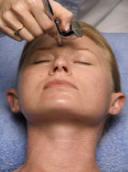 Topical hyperbaric oxygen?
During the treatment an airbrush-like hand piece is used to hover just above your skin. This creates a hyperbaric chamber, releasing pure oxygen. The oxygen is delivered under pressure and serves as a carrier to hydrate and transport botanicals, peptides and vitamins deep within the skin.
How An Oxygen Facial Therapy Treatment Can Help Your Skin
Oxygen Facial Therapy Treatment replenishes the skin vitality lost by using topical hyperbaric oxygen to infuse active ingredients from a specialized serum applied to the skin. These needed vitamins, anti-oxidants, peptides, amino acids, botanicals and hydrators are able to penetrate to the deeper layers of the skin where skin health, elasticity and firmness begin. The results are instant. The finished product is amazing. Your skin will have a healthy glow, firmness and luminosity. Lines and wrinkles will be plumped and softened instantly. Watch the years melt away without pain or discomfort!

Results?
The results are immediate and continue to improve within a 48 hour period. After just one treatment you'll notice immediately softer, more hydrated skin that looks plumper and younger. The gentle process is non-invasive, painless and safe, both during and after the treatment. Expect your skin to look full and refreshed for about 5 to 7 days after your first treatment.
With a repeated series of applications (6) the Oxygen Facial Therapy continues to work long after the treatment, stimulating cell regeneration. For that more lasting effects, we recommend one treatment weekly for six weeks and monthly maintenance thereafter. The results are cumulative, so after the third treatment the results will last seven to 10 days. By the sixth treatment, you'll notice a difference for as long as three to four weeks.
Benefits of Oxygen Facial Therapy
• A non-invasive treatment that helps rebuild the skin, smooth and reduce lines and wrinkles while increasing skin firmness with a visible lift
• Increased hydration and luminosity giving your skin a healthy glow
• Instant and cumulative improvement in tone and elasticity
• Perfect for damaged skin as the use of pure oxygen provides an energizing and healing effect to the skin cells
• Allows the deep penetration of active skin care ingredients into the skin layers to increase the volume of the bio-matrix of the skin, thereby plumping and smoothing lines and wrinkles
• The most advanced method in replacing skins' lost moisture
• Ideal for acne prone skin due to the anti-bacterial effects of oxygen
• Provides oxygen to all levels of the skin
• Stimulates collagen production at a cellular level speeding up the mitosis of the skin cells and helping in the healing process on a cumulative basis
• Helps reverse the damage caused by free radicals

See What New York City Celebrity Facialists Are Saying about Oxygen Facials
http://ceciliawongskincare.com/oxygen-facial/
http://joannavargas.com/oxygen-facials-nyc/
http://www.wewomen.com/cosmetic-surgery/the-oxygen-facial-the-celeb-secret-d50809.html
http://magazine.foxnews.com/style-beauty/we-tried-it-organic-oxygen-facial#disqus_thread